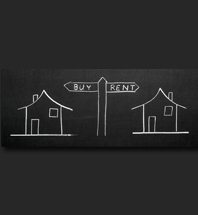 M. Hannan of Huffington Post wrote a great article back in May of 2015 where they interviewed two real estate experts on their advice for financial success for renters and buyers.
When it comes to buying vs. renting, everyone's got an opinion. Talk to your average real estate sales agent, and you'll hear the auto-response, "Now is the time to buy!" Talk to a property manager and you'll hear, "Now is the time to rent!" And a million and one articles, books, and podcasts claim to settle the matter for once and for all, enumerating the pros and cons of each option.
But the thing is, most aspiring homeowners don't need to be convinced that "now is the time to buy." And most renters don't really need to be told that their leases give them some time and space to save, build up credit profiles, and shop around. I decided to try to cut through the real estate mantras and ask two top metropolitan (Washington, D.C., area) real estate professionals the following question:
How can renters and first-time buyers both achieve greater financial freedom?
That is the topic of this three-part series.